Our Expert Sleep Tips: How to Sleep Well When You're Away From Home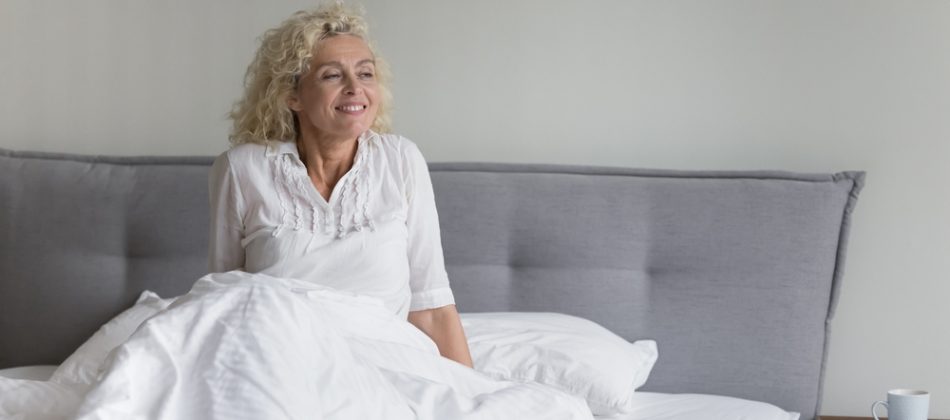 Have trouble drifting off at night when you're away from home? Say no more! We've teamed up with our Sleep Wellbeing Expert Natalie Pennicotte-Collier to help you go to sleep with ease. Discover Natalie's top tips for some of the best ways to have a better sleep when you're away from home.
Over to you, Natalie… 
After ages of the same old routine, you're finally taking a trip or a break and staying somewhere new and exciting. You have a great day – no, a fantastic day, and as the night draws in and you settle down for the night you find you're totally wired even though you're desperately tired. Sound familiar? Well don't worry, you're not the only one. What you're experiencing is the First Night effect, and I'm going to give you some tips to help you get a good night's rest and dispel those first night blues.
Where am I?
Researchers have found that when you sleep in unfamiliar surroundings, only half of your brain actually gets the good night's sleep you need. Many animals that are constantly alert for danger in the wild only sleep with one half of their brain at a time, and while we're not exactly the same (most of the time you're probably not in danger – you're also probably not a dolphin), it's the same sort of thing: you're not sure where you are, and what's unfamiliar could be dangerous.

Sleep scientists coined this the "First Night effect" decades ago when sleep lab studies began. In fact, a person's first sleep in a lab is normally so skewed from their 'usual sleep' that researchers simply disregard any data they collect. That's just how often and how much of an effect this can have.
Focus on the familiar
So, how do you relax when everything's so different to normal? The solution is to turn what's unfamiliar into something familiar instead. That means sticking to your usual routine, choosing to sleep in surroundings you know and trust and booking at hotels where you know what you're going to get.

It goes without saying, but you get all of that with a Premier Inn room: their rooms are a home away from home and unlike a random room in someone's house or at a B&B, with a Premier Inn room you'll always have the same brilliant, reliable rooms every time. It's also all yours, and you can do all the things that normally make you feel comfy at home in your own space.

Premier Inn rooms include blackout blinds, which are so useful for ignoring distractions outside and feeling cocooned in safety. Premier Inn beds are always relaxing, and a choice of firm and soft pillows mean you can get as close to your usual pillow set up at home as possible. That's less time fussing with pillows and more time getting some shut eye.

Instead of focusing on this being the first night in a new place, take it as a chance to grow and a new space to relax – perhaps even to escape the monotony of sleeping at home. Before you sleep, exercise, even if it's just a gentle stroll somewhere nice. Try to keep screens and tech to a minimum and make a conscious effort to wind down. Enjoy a good meal and speak to friends, try not to engage in anything that's going to make your night more stressful or set your mind racing.

Once you get back to your room it's all about you: get the room cosy and dark, take a long hot bath or shower, play some soothing music, have a stretch and then read a book. Try not to fixate on sleeping or worrying why you're not asleep, stay calm and let your mind wander until you drift off.
Getting the kids to wind down
The same logic works for your kids too, your children will see a night away from home as a chance to have a fun sleepover with their parents somewhere new and exciting. It's good to keep in mind that Premier Inn family rooms are always the same, everything will always be in the same place and they're a familiar space both you and your children can relax in.

With kids it's even more important to burn off their energy before bed: have fun in the restaurant, go for a long walk, play games but when you come back to the room it's to sleep. That means setting a good example and not looking at your phone or watching TV until they drift off, too. If your kids are worried about missing out, gently remind them of all the fun you'll have the next morning, and how much better it'll be if they have a good night's rest. Some hugs, a few whispers and any routine you'd normally stick to at home will go a long way getting your kids to settle.

Want to read more of Natalie's top sleep tips? Check out her other advice from the best sleep positions, how to improve your sleep environment and how to fall asleep fast, plus plenty more.
It's our mission at Premier Inn to help the nation rest easy, which is why our rooms and our super comfy beds have been designed with you in mind. So you can rest easy knowing you'll be sleeping in the bed of your dreams when you stay with us – and you can even buy our luxurious Premier Inn bed and pillows online to enjoy at home.