Reclaim Your Bedroom: Tips For a Great Night's Sleep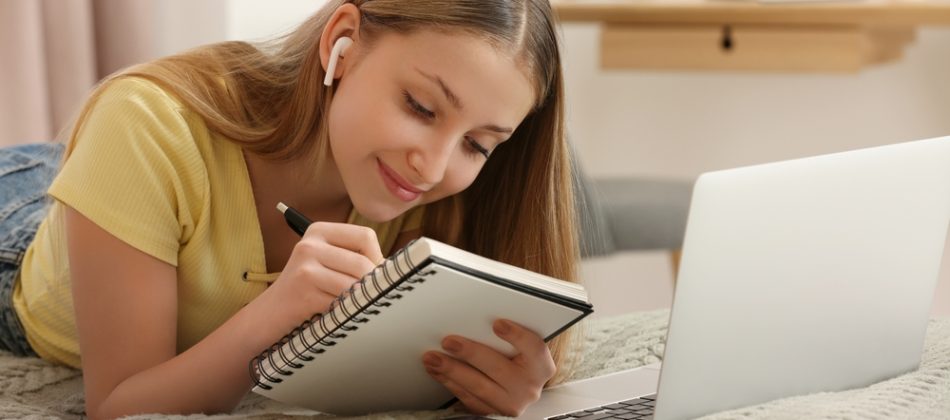 With over half of people in the UK working from home during lockdown, we've discovered the best ways to help keep work and home separate and ensure you get a good night's rest.
Your bedroom should be where you wind down and rest, but sometimes it can be the only place you can find peace and quiet when you need to work. 41% of people have been holed up in their bedrooms trying to work, which has led to 20% of us snacking in bed (and a further 27% of people finding crumbs in their bed). Up to 52% of us have said this has affected when we go to sleep and wake up, with only a third saying they're getting more sleep. Just under half of people said that waking up to a messy bedroom puts them in a bad mood for the day.
Many people have splashed out on new items such as a desk chair (13%), house plants (12%) and a new desk (10%), with a comfy pillow to lean on (17%) being another popular choice.
Working from home has also led to humorous accidents, with two-thirds of people saying something funny happened while they were on a work call. More than a quarter of people have had guest appearances from their families 'zoombombing' in the background, 18% have been caught wearing their pyjamas and 14% have had comments about how untidy their rooms were.
After working all day in our bedrooms, it's important to find ways to switch off and relax. Who better to help then, than our Head of Sleep Sarah Simpson: 
"We welcome millions of guests every year and no one understands better than us the importance of getting a great night's sleep –which is why we take such great care in getting all of the details in our bedrooms right; from the lighting to the paint colours – nothing is overlooked.
As the bed expert for Premier Inn, part of my role is ensuring the bedroom environment is optimum for sleeping– this includes the comfort of the mattress, but also the pillows and duvets. As more and more people are working from their bedroom it is important to have a bed that supports you for both work and sleep and that your bedroom environment is set up to support both uses.
From starting your day right by getting out of your pyjamas to winding down and getting into crisp, clean (crumb-free) sheets, there are loads of things you can do, and we have a whole host of tips to help you get the best night's sleep possible."
With lots of us heading back to work soon, it's time to reclaim bedrooms for what they're meant for – sleep. It's also the perfect opportunity to replace and upgrade beds and pillows. Did you know, our Premier Inn beds and pillows are available to buy online?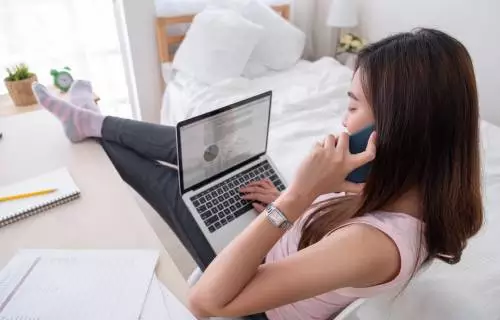 In the meantime, it's important to keep your work and sleep environments as separate as possible. With Sarah's help, we've provided a list of helpful tips below:
Start the day how you mean to go on – tidy away pyjamas and make your bed. Being organised from the get-go, puts you in the right frame of mind to do your best work
Try to create a different environment for work, consider covering the bed with a throw and making sure you have a supportive pillow. Find a surface for your laptop that can be packed away easily also helps provide a place to work.
Try to avoid snacking or eating in bed while working. Making sure you take a break away to get to a different room or take a walk for some fresh air will also help your wellbeing by ensuring you break up your working day – fresh air also helps to get a good night's sleep.
When the working day has finished, pack away all your work equipment and 'make' your bed, removing the throw so the bed covers are nice and fresh. Perhaps consider spritzing your pillows and bed with a sleep-inducing spray to provide a calming and fresh scent.
Eat your dinner away from your bedroom if you can, to avoid putting unwanted crumbs onto your freshly made bed – there's nothing worse than getting into a nice bed at the end of the day and finding crumbs or food wrappers!
Relax your body and mind. Try to ensure you switch off all devices and laptops or switch on your blue light filter (many new devices have this now) at least half an hour before you head to bed, the blue light emitted can prevent important melatonin being produced which is vital for a restful night's sleep – so no sneaky emails just before bed! Try to unwind by reading or listening to an audiobook (using your device is fine for this). Perhaps take a bath and enjoy a warm, caffeine-free drink
Once you head to bed you should look at your sleeping environment – namely your bed, and consider the following:
Pillows – ensure you replace your pillow regularly, so it is supportive, either firm or softer, depending on your preference
Bed linen – look at the cotton count of your bed linen (duvet covers, sheets and pillowcases), the higher the better, this is important to help regulate your body temperature
Your mattress should offer you sufficient support, we recommend pocket-sprung mattresses with a topper, like those in our hotels, as they allow for airflow and reduce disturbances
Body temperature – this is especially important in hot weather, try to ventilate your room (especially after working), and replace a duvet with a sheet or empty duvet cover. In warmer weather try to take a cool bath or shower before bed as well.
Minimising light in your bedroom is important for drifting off, where blue light inhibits the production of melatonin, darkness stimulates the production of this important sleep-regulating hormone.
Finally, sticking to regular wake and sleep times also helps your body get into a positive sleep rhythm. As we ease out of lockdown, when we are possibly sleeping more or going to bed later and start to move towards a more normal working routine; waking and sleeping times are key.